"A Scandinavian double and a single Scottish, please!" That's what Swedish partner KulturUngdom ordered infront of this year's edition of Live at Heart Festival in Örebro, Sweden September 4 - 7. We joined the artists before, during and after the shows.
With around 180 acts, 24 venues combined with outdoor cinema, film screenings and conferences, Live at Heart is by far the biggest showcase festival in Sweden. This year Excite got to be a part of the ten-year anniversary edition, sending Swedish Beverly Kills, The Bowdashes from Denmark and Tamzene from Scotland to join the party.
We meet up with Beverly Kills at Bastard Burger, a suiting place to find the Swedish quartet considering their punkish, indie rock sound with attitude. Although based in Gothenburg, three of the members originate from Örebro, a place they don't visit much nowadays. Guitarist John Jonsén has not been back for around three years.
− It feels a bit weird, but it's going to be good a show, he says.
It's easy to find your way around in the small city of Örebro, and even easier during Live at Heart when there's a new venue around nearly every corner. Also included is the festival headquarters where we hook up with The Bowdashes and Tamzene for a quick chat before their evening shows.
− This is our first time in Sweden with this constellation, and in the next days we'll continue to Gothenburg and Malmö. A nice mini-tour, says Nana Nørgaard of The Bowdashes.
− It feels great to be her, to get an opportunity to play abroad and to showcase my music, says Tamzene.
Next stop; the Excite Showcase at venue WATT. First out is Tamzene, who deliveres her intense electro-pop with both vocal effects, guitars and live drums, keeping her low, beating tempo throughout the show with brilliance. Don't be surprised to find her on bigger stages in a near future.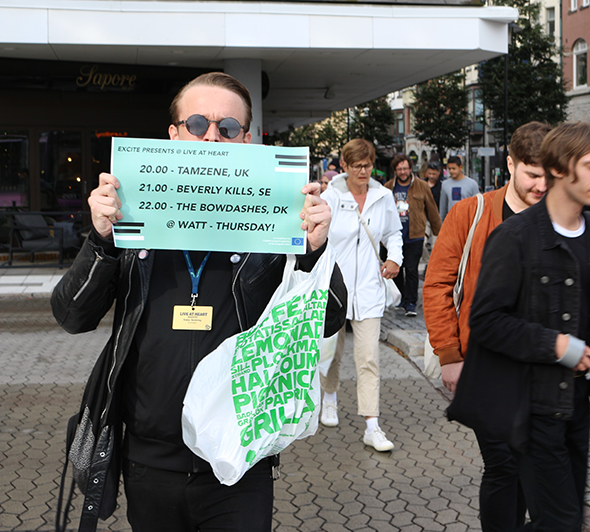 Hometown-boys-made-good, it's as easy as that when Beverly Kills takes the stage at WATT. And making things even better is singer Alma's almost enchanting style of being able to express herself with both a mellow, suiting voice and a high pitch cry. All in all, an intriguing and very good performance from the now Gothenburg bound band.
Ending the showcase with a bang are The Bowdashes, who with a pounding sound and deep, impressive, but also dark vocals, makes the temperature rise inside the tight venue. This is the perfect soundtrack for a seven-month long winter, like the ones we have in Scandinavia. It's cocky in a good way and Nana Nørgaard's autoharp really makes you wonder why this compelling instrument isn't heard more often in pop/rock music.
Making the most out of the stay in Örebro, a Saturday session with Swedish booking agent My Bergman (Blixten & Co) is set up. The session is part of the extra value-program, where Excite hopes to inspire and connect musicians with industry professionals. My Bergman led the talk into the importance of leaving your comfort zone, planning a few years a head and to develop an excellent live performance. And looking back on their shows the day before, it seems like the work has already begun.
Shortly after the meeting both Beverly Kills and The Bowdashes race their cars down to Gothenburg for shows at the Waves Rolling Festival, also set up by KulturUngdom. While Tamzene stayed in Örebro for a second show at Live at Heart. A busy weekend for all participants!
Tamzene - https://www.facebook.com/tamzenemusic/
The Bowdashes - https://www.facebook.com/thebowdashes/
Beverly Kills - https://www.facebook.com/beverlykillsforever/
Live at Heart - https://www.facebook.com/liveatheart/

Words: Gustav Påhlsson
Pictures: Caroline Furness